I'm sure you're savvy enough to know just how effective blogging is to build a loyal following of fans you can sell products to - again and again. Some of the top marketers owe much of their wealth to their blogs. But what you might not know...
... is that blogging has just taken a quantum leap up to even more attention and greater profits, simply by adding video to all those boring text posts. So - even if you already have a blog or are starting from scratch, it's now your turn to get on the bus.
You see, video is now the undisputed language of the internet. So, if you only have a text blog - or no blog at all - you're leaving money (lots of it) on the table.
And to make sure you don't miss out on this profitable trend, I've just created this new report: 'Vlog Traffic Goldmine' to ensure you get the maximum benefit.

Here's a sneak preview of the insider secrets some smart marketers are already exploiting to pile up the profits...
Why without an on line video presence you're dead in the water.
The bright future that is in front of anyone who masters video blogging.
How to get started video blogging, lightening fast (and at minimal cost).
How the new age of video blogging will impact you and your on line business.
The secret to creating professional quality video - yet on a shoestring budget.
How to upload and distribute your videos (you'll be amazed how easy it all is).
The vital art of promoting your videos for maximum interest, attention and traffic.
How video is increasingly the content of choice, on line (plus the amazing prediction from Google).
Why video blogs outstrip text-only blogs by a country mile - and why the gap will continue to widen.
The essence of blogging and why it became such a success (and the forerunner of all those social media sites).
The respected Forbes study that highlights the effect of video on business to business (and how 'Amateur Night' videos are a thing of the past).

And much more..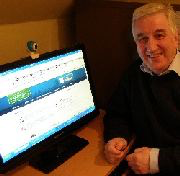 George McGillivray